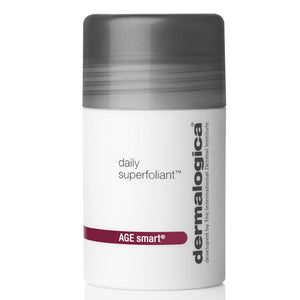 Take your exfoliation up a gear with this advanced powder formula. Daily Superfoliant uses activated Binchotan Charcoal to absorb environmental and biochemical toxins from deep within the pores preventing accelerated skin ageing. The formula activates when water is added which releases powerful enzymes, alpha hydroxy acids to smooth the skin and uses Red Algae and Tara Fruit Extract as its anti pollution technology. If you are using medically prescribed exfoliation products (usually products prescribed for acne) we don't advise you use this product.
Benefits
Detoxifes deep into pores
Deeply cleanses for super smooth skin
Helps fight premature age causing pollutants
How to use
After cleansing, dispense about a half-teaspoon into very wet hands and create a creamy paste by rubbing hands together. Apply to face in circular motions, avoiding the eye area. Massage gently for one minute, then rinse thoroughly with warm water. Use daily. For more sensitive skin, apply on alternate days until skin acclimates.
Lois's Tip
As this product is highly active try using every other day when you first introduce it to you regimen to allow your skin to get used to it.