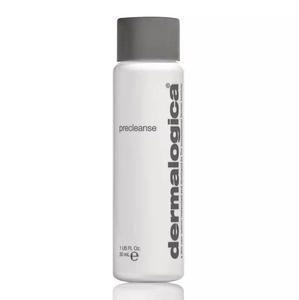 One of our must-have recommendations, Dermalogica PreCleanse gives your skin that extra cleansing boost it needs. Use this as your initial cleaning step to your Double Cleanse regimen. PreCleanse removes excess layers of sebum without clogging up your pores. It is capable of removing all types of makeup, sunscreens, environmental pollutants and any other product build-up on the skin.
This nourishing cleansing oil fortified with Kukui and Apricot oils is safe to use around the eye area, even removing waterproof mascara. Add water to this water-loving formula and massage it into a milky consistency, removing all skin debris. Formulated with conditioning Rice Bran and Vitamin E oils PreCleanse leaves your skin fully prepped for your chosen Dermalogica cleanser, allowing it to penetrate deeper mimicking a professional cleanse.
Benefits
Allows your prescribed Dermalogica Cleanser to penetrate deeper and work more effectively.
Nourishes the skin with essential fatty acids
Removes oils without causing congestion.
How to use
Dispense into dry hands. Massage over dry face and eyes to dissolve surface oil and dirt. Concentrate on areas of congestion or stubborn debris. Wet hands and continue massaging to create a light, milky emulsion. Rinse with lukewarm water. Follow with prescribed Dermalogica Cleanser for professional cleansing results.